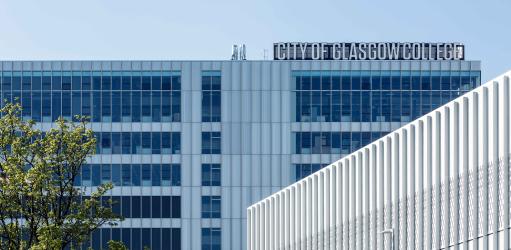 Blended Learning
Blended learning combines classroom learning and independent study with online learning, in which students can, in part, control the time, pace, and place of their learning. At City of Glasgow College blended learning will vary from course to course and may involve some or all of the following learning activities:-
Taking part in classroom based activities in physical and on-line classes;
Working in specialist facilities such as workshops, salons, studios; 
Watching videos; 
Using multimedia;
Working on web based platforms; 
Participating in trips and visits, including virtual trips
Role play; 
Work experience or placement; 
Industry based activities; 
Project work; 
Independent study; 
Completing on-line assessments and quizzes to track your learning;
Accessing our library and digital collections. 
Some of the above learning activities will be delivered fully or partly by your Lecturer and you will be expected to work both independently and collaboratively in groups with other students to improve your learning and complete work for assessment. Learning activities will combine a mixture of online and on campus attendance with both seen to have equal value. 
As part of your induction you will learn how to access our virtual learning environment, the library, and digital collections and how to use Zoom , Microsoft Teams and any other tools you need for your course. 
If you have any questions about the City of Glasgow College Blended Learning Model please contact our studentservices@cityofglasgowcollege.ac.uk. 
Online Learning
We've put together lots of advice for online learning in our handy guide Top Tips to Online Learning.
Covid-19 Measures
All covid rules and restrictions have been lifted in Scotland, but the virus has not gone away.  We will continue with our blended learning approach gradually bringing more students and staff onto campus.
From 1 May, most people no longer need to take a coronavirus test. Stay at home and avoid contact with other people if you have symptoms of a respiratory infection such as coronavirus and have a high temperature or do not feel well enough to go to work or carry out normal activities. If you have symptoms follow the updated covid-19 guidance on NHS Inform.
There is no longer a legal requirement to wear face masks however we would encourage you to wear one when in college in busy indoor spaces.
Use 'Covid sense' to help protect yourself and others:
Get your vaccine when offered to ensure you are fully protected.
Open windows when socialising indoors.
Wear a face covering in indoor public places and on public transport.
Wash your hands to protect yourself.
Take a PCR test and isolate if you have symptoms.
Take an LFD test before visiting someone in a hospital or care home.
Campus Open
College buildings are open and available for use. You can book a study space in City and Riverside libraries - Monday to Friday, 8.30am to 7pm and Friday to 5pm, via MyCity booking app.
Touchdown spaces are also available without the need to book, at City campus, floor 2 and on the ground floor at Riverside campus Students Association. There are a wide range of seating areas throughout both campuses that can also be used.
Food outlets on campus
At City campus, Café Zero (at the entrance on Cathedral Street) is open daily from 7:30am - 3pm. The Starbucks Coffee Cart on level 2 is open 8am - 3pm and the main refectory area on level 2 is open 8am - 2.30pm daily.
At Riverside, the ground floor café is open 8am - 5pm and the main refectory on level 1 is open 8am - 2.30pm daily.
Contact Us