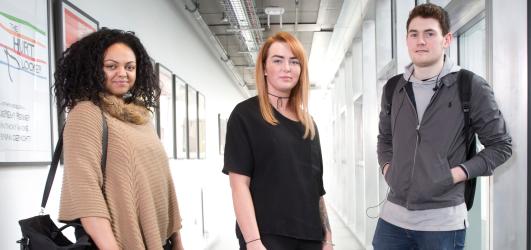 As Scotland's largest college we have fantastic courses and state-of-the-art facilities at our City or Riverside campus in the city centre of Glasgow​.  We work in partnership with many schools across Glasgow and Scotland and are always keen to engage with more. 
We offer over 2000 courses across a range of subjects, with over 90% of our successful students progressing to university, apprenticeships or employment.
Our Schools Marketing Team is available to provide school presentations, participate in careers fairs you might be planning, tours around our award-winning twin site super campus, organise taster days and Open Days.  Contact us at schools.marketing@cityofglasgowcollege.ac.uk to arrange.
Information Session for Teachers and Advisers
We would like to extend a warm invitation to all teaching, Skills Development Scotland (SDS), and Developing The Young Workforce (DYW) staff to join us for an afternoon information session for teachers and advisers.  During your visit, you will have the opportunity to visit our specialist course facilities, meet with senior staff and academics, and find out more about our courses. 
Location: City Campus, 190 Cathedral St, Glasgow, G4 ORF.
Date: Friday 10th June.
Time: 1.30 - 4.00pm.
We'll have lots of demos and displays across all Faculties throughout the afternoon including:
Hospitality, Events and Tourism 
Make a Cocktail.
Make a Barista style coffee.
Try an airport Check-in.
Create a Holiday Package. 
Cabin Crew, Safety Demonstration.
Legal Services
Our Legal Services Team invites you to take part in a debate and get the chance to put on a gown again, take the floor and question a 'potentially' lying witness. Will you be able to ensure the truth prevails? 
Creative Industries
Visit the End of Year Show where students exhibit fantastic examples of artwork, from Fine Arts to Jewellery Making.  Staff will also run some hands-on creative demos for you to try.
We're working on our programme but if you have a specific request please let us know and we can tailor your time with us to suit your requirements. Please let us know (through our booking form) what would like to do during your visit so that we can ensure you make the most of your time with us.
Our Student Services Team will also be on hand to advise you of various opportunities available to your pupils, including our Schools Programmes, apprenticeships and FE/HE courses post school.
This will be a great opportunity for you to discover more about our courses and career paths on offer.
Have a look at our Digital Prospectus and see the courses on offer.