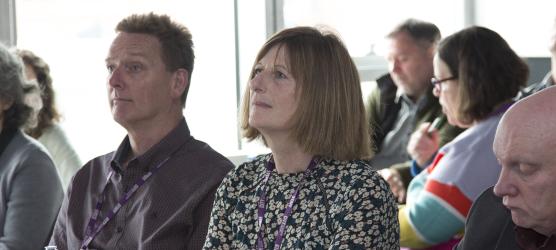 ESOL CONFERENCE 2019
The relative prominence given to grammar and vocabulary in English language courses was debated at this year's City of Glasgow College ESOL Conference.  
Delegates from schools, colleges, local authorities and businesses took part in a variety of workshops aimed at generating and sharing excellent practice in English language teaching in a Scottish and UK context.
On the day delegates heard from key speaker Hugh Dellar, from the University of Westminster and one half of the Lexical Lab, give a talk on the traditional approach to English language teaching, emphasising that it is often not best suited to learners. He highlighted that examples provided in books are often simplified, sanitised and unnatural in order to exemplify a grammar point.
The following workshops were offered on the day:-
Dr. Francesca Stella and Jen MacDougall (University of Glasgow):  Exploring equality, diversity and LGBT lives: A classroom resource.
Gemma Archer (University of Strathclyde): Pronunciation in the Scottish English classroom: meeting the needs of teachers and students.
Dr. Steve Brown (University of West of Scotland): Beyond Empowerment: ESOL as a Source of Emancipation.
Sheila Thorn (The Listening Business): Teaching listening: Where does it all go wrong, and how can we put it right?
Amanda McLoughlin (Freelance Teacher Trainer and Materials Writer): Creative reading tasks for ELT learners (aged 5-99).
Panel and Delegate Forum: The Future of ESOL in Scotland.
This year the thoughts, ideas, and discussions arising from the presentations and workshops were captured by Rowan Watts from More Than Minutes, providing a lasting and very effective visual summary of the day's outcomes.