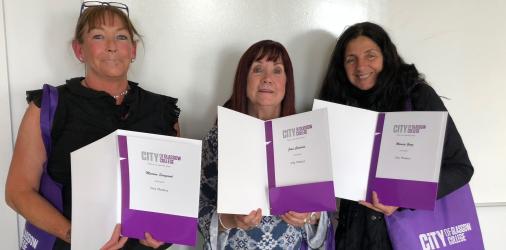 City Phonics
Created by City of Glasgow College Senior Lecturer Diane Gardner, City Phonics is a completely fresh and structured approach to teaching adults how to read and write. Based on a synthetic Phonics-based system of blending sounds to create words and linking words to images, this course gives students a clear progression pathway based on an intuitive approach to learning. City Phonics is a City and Guilds accredited programme and has already been successfully piloted both within the college and with selected external partners. 
City Phonics benefits adult learners who struggle to read and write, including those who suffer from dyslexia or other learning disabilities, non-native speakers and anyone who is not functioning at a standard literacy level.
"City and Guilds are excited to have been able to accredit this programme and look forward to seeing it grow" Gary Woolton, City and Guilds.

"This is the first course I've stuck at.  It makes sense." MM, Student.
For further information please contact:-
Diane Gardner, Senior Lecturer on 0141 375 8394 or email.