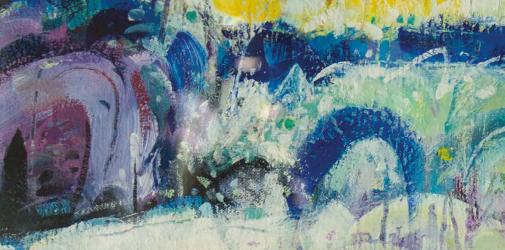 City of Glasgow College has a long and successful record as a cultural patron and wants to seize the opportunity to continue that tradition and establish art at the heart of its ambitions for its new super campus. The buildings offer an exciting opportunity to integrate art and architecture in a way that enhances the quality not only of the internal space for staff, students and visitors but also the surrounding environment for the wider community.
Background
The Art Foundation has been developed with three main interests:
A new commission which compliments the contemporary design of City of Glasgow College's new state of the art City campus in the heart of Glasgow's Learning Quarter;
Consideration of an existing and substantial collection of selected work of past and present creative students; and
Using the twin site campuses as a venue for exhibiting student work alongside established artists. 
The Art Foundation will showcase the work of established artists alongside the work of its own creative students for the first time. The college will become a venue for changing exhibitions, establishing a place in the cultural life of the city as the home of a highly prestigious collection and a place where the arts are celebrated.
Spirit of St. Kentigern 
The bronze sculpture sat outside House of Fraser on Glasgow's Buchanan Street from 1977 to 2001. The abstract statue of a bird depicted the story of Glasgow founder St Mungo, also known at St. Kentigern, who was said to have restored life to a robin. Glasgow City Council has loaned the Spirit of St. Kentigern to the college and its new resting place will be close to the Allan Glen entrance of City campus.  
The Ralph Cowan Gallery 
The 7th floor of the Creative Industries tower of City campus has a purpose-built gallery space suitable for small-scale exhibitions. We are seeking both emerging and established artists to exhibit here and welcome exhibits from a range of disciplines including; fine art, photography, design, craft and film making.  
The college can provide technical support in staging exhibitions and we are happy to discuss specific requirements. We are particularly interested in providing the gallery space at no cost for those who may wish to donate an artwork to the collection. 
Ralph Cowan was a stained-glass artist and teacher at Allan Glen's School on whose site City campus now stands. The gallery space has been named in his honour in recognition of his reputation and legacy as a highly accomplished artist and art educator. 
Current City of Glasgow College Collection
A substantial collection of the best work of past creative students had been collected by the Director for the Faculty of Creative Industry, Sandra Gunn, which is displayed throughout the college's City campus. In addition, well-known artists have donated works of art on long-term loans where the college can enable the artist to hold one-man or one-women exhibits. Funding from Sir Robert McAlpine, the contractors for the new build, allowed work to be commissioned from current students and staff and as a result, there is now a collection of over 50 pieces of art.
Artistic and Sponsorship Opportunities
Creative City is the college's annual music, drama, art, literature and entertainment festival organised and performed by students. It runs for three weeks during February and March and includes talks by artists, designers, high profile writers, music industry experts and film makers.
We are always seeking artists from all creative disciplines to give talks in a variety of settings and for different audiences. Some talks may be student focused while others will be practitioner and professional focused events. If you would like to participate as a speaker or audience member please contact the Art Foundation.
 
Our College has benefited from long and short term loans of art works from artists and collectors which are displayed in the public areas of our twin site campus and enjoyed by the college community and visitors. This type of engagement with the creative world enriches our students' learning experience. For our Sponsors, it establishes a valuable relationship that has significant industry networks throughout the UK and internationally. If you would like to know more please contact the Art Foundation.