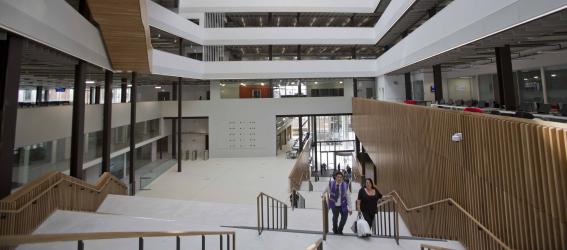 Next Generation College
City Campus
City campus has been meticulously designed to offer superb opportunities to our students and to meet and adapt to the changing needs of future generations. This future-proofing includes technologically advanced, industry standard facilities which complement a vast open and inspiring learning and teaching environment.
The students of 2016/17 session were the first to enjoy the fantastic facilities of this custom built Further and Higher Education facility - one of the largest specialist college buildings in Europe.
City Campus at a glance:
Vast open public reception area and welcoming break out spaces.
Triple height library with drop-in IT facilities and social learning space.
Roof gardens and two viewing terraces.
Over 500 learning spaces.
Industry standard TV and Radio studios.
A fully equipped aircraft training cabin.
16 professional cookery kitchens.
Creative design and photography studios.
Sport Scotland standard sports complex.
Industrial sized construction, craft and built environment space.
Scholars fine dining restaurant - open to the public.
City market - butchers, bakers, fishmongers - all open to the public.
Commercial hair salon, beauty salon and nail bar.
Business Centre.
Find your way round your new campus with this handy guide.
Library
The library is an extensive and modern learning resource area over several floors right at the heart of City campus. On Level 2 there is extensive social learning space with touchdown and breakout space, open access computing and open exhibition space and free circulation to the external terrace and through to the main refectory area. The library continues on to Level 3 where you will find group study facilities, further social learning space, a service point, workshop space activity area and reprographics facilities.
On Level 4 the main library service point is located alongside IT facilities, book stock, breakout and further study spaces. The extensive learning resource area culminates on Level 5 with the remaining book stock, dedicated IT facilities, individual quiet study space and further reading and study areas, reprographics and an additional service point. This library resource is second to none in any Scottish Further Education College.
Catering at City Campus
An extensive range of menu options and styles are available throughout the building. These include:
Café Zero at the Cathedral Street entrance.
Scholars Restaurant on Level 0.
City Bistro on Level 1.
City Terrace Restaurant on Level 2.
The Workwear Café adjacent to the construction hall on Level 2.
Café SA within the Students' Association on Level 2.
Red-Dot Café next to television broadcasting on Level 7.
The Skybar Vending on Level 10.
Vending is also provided throughout the building.
Catering at both our campuses is provided by Baxter Storey.
Getting around
At our City campus, there are 22 lifts located next to the various stair wells. The main bank of lifts are at the centre of the building and have a special control panel that will let you know which lift will get you to your destination the quickest. Please note, not all lifts go to all floors.
Parking
There is no parking for students or staff at our Campuses however, there are ten accessible spaces close to the level 2 entrance at City, with four available at Riverside. These spaces are only for disabled drivers with blue badges and are allocated on a first come, first served basis.
Students and staff are encouraged to use public transport where possible. For those wishing to cycle, there are over 300 cycle racks at City and 200 at Riverside. 
Toilets / Washrooms / Shower Facilities
Toilets are located generally next to access points for lifts and stairs on each floor. Some toilets are gender-neutral and are for use by anyone regardless or their gender, or sex. In other areas there are banks of toilets that are designated male or female. We also have changing facilities on each floor.  
In response to the Scottish Government's commitment to end period poverty, City of Glasgow College has introduced free sanitary products at both of our campuses in the City Centre.
Lockers
There are lockers available for students who need to change into uniform or store equipment. Your lecturer will be able to give you more information on getting a locker. Normally, a deposit of £10 is required, which is refunded at the end of the year.
City Campus AccessAble Information
AccessAble  give you the detailed information you need to work out if a place is going to be accessible to you.  The Detailed Accessibility Guides tell you all about a venue's access.
Riverside Campus
Situated on the banks of the River Clyde our Riverside Campus was completed in August 2015. Together with City Campus, it represents a multi-million investment in tertiary education providing world-class facilities for Glasgow, Scotland and the international community. 
This multi-award winning building is the most modern and most technologically advanced maritime campus in the world. It is home to over 3,000 Marine and Engineering students and offers a 198-bed student accommodation block which sits alongside the main college building. The en-suite accommodation provides a safe, secure, clean and welcoming environment for all students who stay there.
Riverside Campus at a glance:
The first 360-degree Shipping Simulation Suite in Scotland.
The first women-only engineering and construction classes in Scotland.
Marine Skills Centre with its own jetty, rescue lifeboats and a free fall lifeboat.
State-of-the-art Nautical Chart Rooms.
One of few STEM Centre's of Excellence in Scotland.
One of only four UK colleges recognised to deliver Merchant Navy Officer training to Chief Engineer and Master Mariner level.
One of the most modern working ships engine rooms in the UK.

Find your way around your new campus with thi

s handy guide.
Our Smoke-free Campus
City of Glasgow College recognises an individual's freedom of choice to smoke or not to smoke but must protect the rights of everyone to a smoke-free environment by eliminating the risks associated with second hand smoke.  For this reason; both Riverside and City Campuses are Smoke Free, meaning that smoking and vaping are prohibited anywhere in College buildings, grounds, walkways, paths, etc. and within College vehicles.  
It is essential that staff, students and visitors are respectful of and follow the restrictions that have been developed in line with the College's No Smoking Policy and by extension the law.  The Smoking, Health and Social Care (Scotland) Act 2005 makes it a criminal offence to smoke within no-smoking places. We actively encourage healthy lifestyles at the College and as such work in partnership with NHS Scotland to support students and staff to access smoking cessation services. 
Scottish Government NPD Programme
Our new campus has been procured with financial support from the Scottish Funding Council, Scottish Government and the City of Glasgow College Foundation through the Scottish Government's NPD Programme.
You can view a redacted copy of the NPD Project Agreement.
Riverside Campus AccessAble Information
AccessAble give you the detailed information you need to work out if a place is going to be accessible to you.  The Detailed Accessibility Guides tell you all about a venue's access.