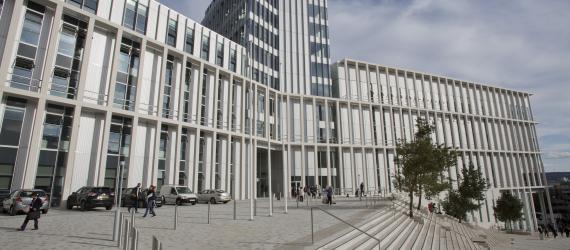 Where to find us
Situated on the banks of the River Clyde our Riverside campus opened its doors to students and staff in August 2015. Together with City campus on Glasgow's Cathedral Street it is part of a £228 million twin-site super campus providing world-class facilities for Glasgow, Scotland and the international community.
Riverside Campus
21 Thistle Street
Glasgow G5 9XB
City Campus
190 Cathedral Street
Glasgow G4 0RF
Tel: 0141 375 5555
Email: enquiries@cityofglasgowcollege.ac.uk
 You'll find each campus on this map:
Before you arrive, please take a minute to read our visitor information leaflet. It'll help you learn a few important things about our security and health and safety policy.
Campus Closing Times
City Campus 
Monday - 7pm.
Tuesday to Thursday - 9pm.
Friday - 5pm.
Saturday - 1pm.
Riverside Campus
Monday - 7pm
Tuesday to Thursday - 9pm.
Friday - 5pm.
Traveline Scotland
Looking for travel info? Traveline Scotland offers up-to-date and impartial advice about local public transport, including journey planning and timetables. Find out more here:
Train stations
Glasgow's two main railway stations are:
Glasgow Queen Street
North Hanover Street, Glasgow G1 2AF
Tel: 0845 601 5929
Fax: 0141 335 4592
Textphone: 0800 9122 899
Glasgow Central
Gordon Street, Glasgow G1 3SL
Tel: 0845 601 5929
Fax: 0141 335 4592
Textphone: 0800 9122 899